Little RV of Horrors is an upcoming fanfiction by TheAwesomeGirl. It is a parody of the 1986 horror/comedy/musical Little Shop of Horrors.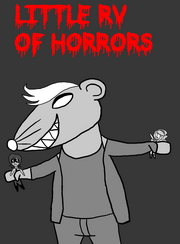 Little RV of Horrors features
Mother-zombie
's OC Tanezumi.
After Uncle Grandpa goes on a vacation, a self obsessed man finds success and romance with the help of a giant, pink, man-eating rat, who demands he kill people.
Characters
Edit
Pizza Steve - A self obsessed guy who lives in the RV, who finds Tanezumi hiding in a kitchen cupboard.
Honey Smith - Pizza Steve's crush. She helps Steve take care of Tanezumi at first, until Steve makes her stop (due to him not wanting her to be responsible for any of the deaths, or for her to know about the deaths taking place, in the first place)
Mr. Gus - In charge of the RV while Uncle Grandpa is away. He doesn't think that keeping Tanezumi in the RV is a good idea.
Tanezumi - An evil man-eating rat from Japan, who makes Steve kill people to feed her. She has the ability to make clones of herself, which she markets as "lovable buddies" but in actuality, her plan is to take over the world by having her clones, which are also man-eating, rob every bank in the world.
Riley Duck - Pizza Steve's rival for Honey's affections.
So far, three rewritten LSOH songs are confirmed to be appearing in Little RV of Horrors.
Somewhere That's Green - performed by Honey
Suddenly, Steven! - performed by Pizza Steve, Honey, and ensemble cast (yet to be decided)
Mean Pink Rat from Japan - performed by Tanezumi and the miniature Tanezumi clones
The release date is unknown, as this is a side project, while TheAwesomeGirl works on many other projects as well.
The inspiration comes from Audrey II and Mother-Zombie's OC Tanezumi being similar, such as both being self absorbed, bragging, potty mouths.
This is the first of TheAwesomeGirl's multi-chapter fanfics where Aranea is completely absent (unless decided to put her in the ensemble, for music numbers.)
This fanfic has a surprise twist that only 3 people, other than the author, know about.
Where to Read
Edit
Google Docs (LINK COMING SOON)