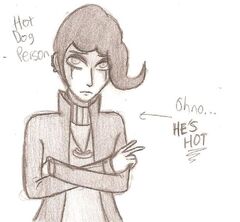 Frank Herbert is the human version of Hot Dog Person, who is a main character in the Uncle Grandpa short "New Experiences with Beary Nice and Hot Dog Person".
Physical Appearance
Edit
As a human he has long pink hair hair geled and sprayed up into a large pompadour. He has a long oval face with big round blue eyes. He is usually shown with a forlorn expression and has a somewhat gothic appearance. As shown in a Bonding Time even in Mother-zombie's Getting Out Alive, he describes how he is one of many genetically modified food people. He is a person genetically modified from a hot dog, thus why Beary Nice continuously calls him "Hot Dog Person". Frank finds this tiresome and reveals to us that he wishes Beary would call him by his actual name.
Personality
Edit
He is afraid and reluctant to try new things, considering Beary Nice forces him to try new things in which he ultimately ends up getting hurt. As revealed in a Bonding Time event in Mother-zombie's Getting Out Alive, he is quite fixated on depressing topics and has no hope of anything getting better. It is also revealed that he is a rather lonely individual and wants company, which is why he stays with Beary Nice despite the fact he always gets hurt when hanging out with him. However, the constant getting hurt has made him quite resentful.